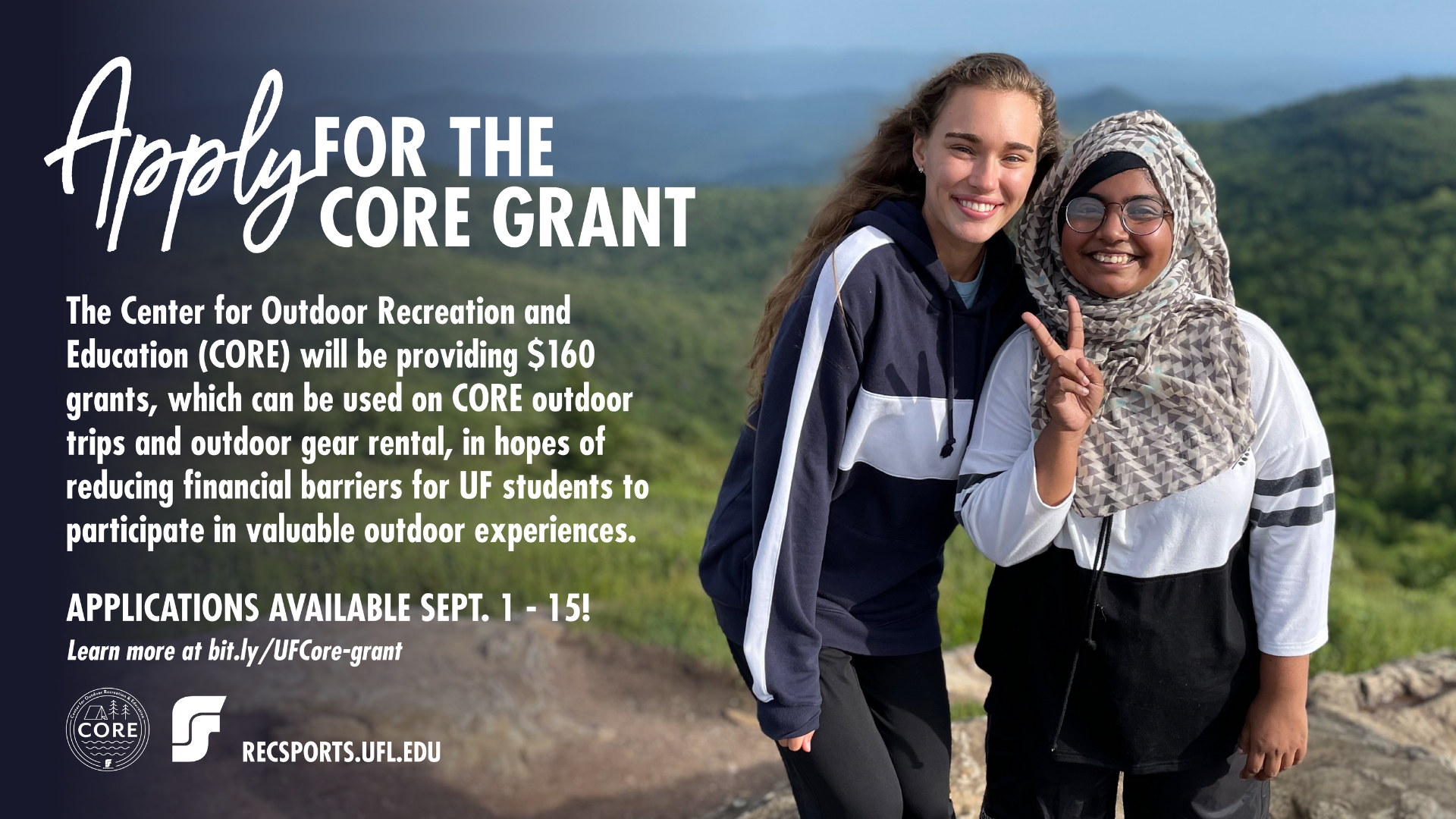 Apply for the Fall 2022 CORE Grant!
Adventure Trips with the Center for Outdoor Recreation & Education (CORE) have been shown to decrease stress levels and increase a sense of belonging. The Department of Recreational Sports believes that these factors, in addition to physical activity, are key components of a successful student.
The CORE Grant aims to reduce financial barriers for UF students to participate in valuable Adventure Trip experiences. CORE awards approximately 6 $160 grants to UF students each Fall and Spring semester, as well as up to 2 $160 grants for the Outdoor Leadership Course. If you are interested in learning more about the OLC CORE Grant, then please visit the "How to become a TRiP Leader" tab on this website.
CORE Grant Guidelines
Apply for the CORE Grant!: Students must submit an application in order to be considered for a grant.
Applications open on this web page on September 1st at noon and close September 15th at noon.
Must be a current UF student
Must have a minimum GPA of 2.5
Must demonstrate financial need for the grant
Successful grant recipients are awarded $160.
The $160 can be used for Adventure Trip registration or gear rental. Students can use funds to register for multiple trips or workshops if they choose.
If the registration price is higher than $160, the student will be responsible for paying any remaining balance.
Grant money is only valid and usable within 1 calendar year from the time is awarded.
CORE Grants awarded for the Outdoor Leadership Course can only be awarded to students accepted into the course.
Contact the Assistant Director for Outdoor Recreation, Braja Smith, at b.smith2@ufl.edu with any questions.