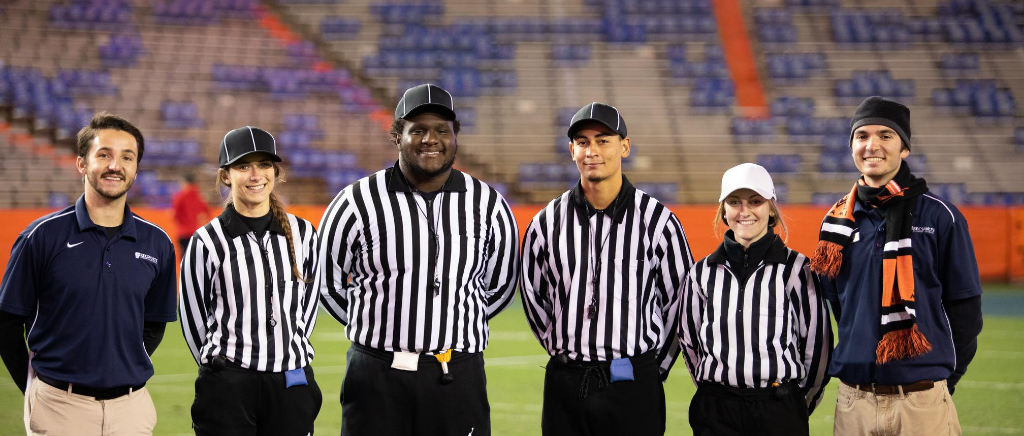 Summer B 2022: Positions Offered
| POSITION | SPORT |
| --- | --- |
| Official | 5v5 Basketball |
| Official | Indoor Soccer |
| Official | Flag Football |
| Scorekeeper | 5v5 Basketball |
Apply now for Summer B 2022 or Fall 2022!
Do you love being involved with sports? Have you ever attended a sporting event or watched a game on television and wondered what it was like to be an official?  Come see what being an official is all about! We will teach you all you need to know. Being a sports official is a great way to learn to problem-solve, manage conflict, build confidence, and become adept at handling difficult conversations.
No experience is needed! Once offered the position, you will attend one (or multiple) of the rules clinics to work for RecSports as an official! You will be provided training in the classroom, on the field, and in practice games.
In order to be hired for an officials or scorekeeper position, each applicant must fill out a student employment application through the Careers @ UF system. Search "Recreational Sports – Intramural Sports". Only one application is needed for all positions.
AND
Attend all required trainings communicated by Professional Staff. 
If you have any questions or concerns about becoming an Intramural Sports Official or Scorekeeper, please email Trell Smith at jsmith10@ufl.edu.
---
Application Instructions
Interested applicants can attend one or multiple clinics that interest them. After submitting an application, you must attend the session(s) listed above. You may not receive a confirmation from our staff, however you are invited to attend the session. Information on how to apply for the position(s) using the Careers @ UF system can be found here. To be hired for any position a person must have their ORIGINAL social security card.
Important Hiring Information
Submit application through Careers at UF website.
In order to be added to payroll, successful applicants must provide within 3 days of offer:
Valid Driver's License
Valid Gator 1 ID
ORIGINAL Social Security Card
If you are offered the position you must attend a RecSports Launch Meeting, dates will be released during training.  Upon your offer, you will be sent instructions for this meeting.  At this meeting you will present the required ORIGINAL documents that are listed above.  We recommend that you locate these documents now, this will ensure your payroll process is quick and efficient.
Pay Rates
Intramural Officials – starting at $11.25 per hour.
Intramural Scorekeepers – starting at $10 per hour.
If you have any additional questions, please contact Trell Smith at jsmith10@ufl.edu