Looking to make some money while gaining valuable experience in an area that interests you? Then look no further than a position at the Department of Recreational Sports. We currently employ over 700 students in a variety of positions between our facilities on campus and Lake Wauburg. I personally have worked for RecSports for over two years now and am happy to showcase a number of reasons why I choose to keep coming back.
Flexibility
RecSports understands that they are hiring STUDENTS and that your time as a student is limited. RecSports helps build a work schedule that fits around your classes because ultimately, school is what matters most. Most positions use the WhenToWork platform, which allows student employees to block out times they cannot work and to trade or pickup shifts when needed.
Convenience & Opportunity
Most RecSports jobs are located on campus, with exception to the positions at Lake Wauburg. You can never go wrong with working in the heart of the Gator Nation. There is also possibility for advancement within most positions at RecSports. Most program areas offer the opportunity for students to move into supervisor positions and then eventually program assistant positions.
People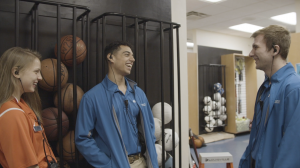 My favorite part about working for RecSports has been the people that I have worked with. Being around people that are just as passionate about promoting wellbeing as I am gives me a sense of fulfilment and a feeling like I am a part of something bigger than myself. RecSports' employees undergo similar triumphs and challenges that allow for deep and meaningful relationships. Working as a basketball referee, my partners and I instantly bonded in the high-pressure environment despite barely knowing each other. My coworkers are now some of my best friends, and I hope to maintain these relationships long past my time with RecSports.
Fun
We go above and beyond in our attempt to encourage lifelong wellness, but we make sure to have fun along the way. Whether it be by receiving free RecSports swag items, playing on our Intramural teams, or working with your closest friends, you will never dread coming to work. Our employees can attest to the fact that Southwest Rec, Student Rec, Lake Wauburg, Broward, CORE, and our 4 pools are all fun, exciting atmospheres to work in.
Applying
If all of these attributes are what you are looking for in a job, then make sure you apply to one of our positions posted on our site. Applications will be going live on October 1st. Check out our website for full information and details. Below are the steps to complete the RecSports Student Application Process:
● Navigate here to the Careers at UF site
● Login or create a new account if necessary
● Search "RecSports" to gather a list of all available RecSports positions. Additional information regarding hiring timelines for each position can be found here
● Complete and submit the full online application – once submitted an automated confirmation email will be sent to you
● The committee evaluating applications will contact you after the application period closes to schedule an interview, if applicable. If you have questions, please email Stefanie Rodgers at SRodgers@ufsa.ufl.edu
Applying to RecSports has been one of the best decisions I have made in college. It has helped me find my community and has given me a springboard to launch my career. If you want a chance to have a meaningful impact on the UF community while having fun at the same time, then RecSports could be for you too.