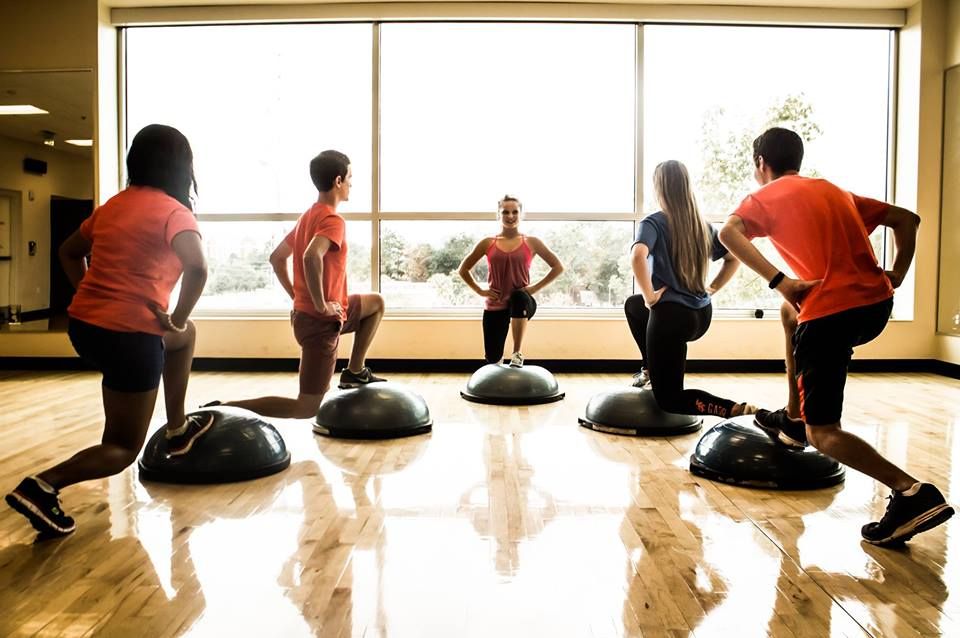 The Instructor Training Course is a 10-week not-for-credit class during which time students will learn all the necessary information and skills to be a group fitness instructor. Students will be exposed to six different types of class formats: cardio, strength, dance, mind/body, cycle, and outdoor. The training course will consist of both in-person and online components including weekly presentations, master classes & evaluative feedback. Participants will have the opportunity to ask questions and learn in independent and group settings. This training course requires a significant time commitment from all participants both in and out of the classroom, and requires a certification if student becomes hired at RecSports. No experience is required.
For Those Interested in Teaching Yoga
Update Needed: Interested in becoming a certified yoga instructor by summertime? Join a 200 hr. RYT Training this spring at the Southwest Recreation Center, brought to you by Kardiya Yoga, LLC. The training costs $2250 (payment plans available) and will intermittently on weekends throughout the spring semester. Email to learn more or visit their website or Instagram. 
Registration and Audition
*Registration opens October 24th, 2022 at 12am. Auditions are November 17th, 2022. Audition time slots will be held in-person from 2:00-3:00pm, 3:15-4:15pm, and 4:30-5:30pm at Southwest Recreation Center Activity Room 3.
Register:
– Go to RSConnect, log in with your Gatorlink username and password
– Click on Group Fitness Classes
– Click on Instructor Training Course Group Audition
– Choose a date that works for you and follow the steps to complete registration.
Group Auditions: To register for the Instructor Training Course, you must first attend a Group Audition. Registration opens October 24th, 2022 at 12am and auditions are November 17th. Please see above for audition time frames.
NOTE:
Registration for a Group Audition does NOT guarantee that you will secure a spot in the actual Course. Costs are associated with the Instructor Training Course. See Course Guide below for more information.
Course Details
*The Instructor Training Course will run from January 11, 2022, through March 24, 2022 and meets at the below times weekly*
| DAY | TIME | LOCATION |
| --- | --- | --- |
| Tuesday | 3:30 PM – 5 PM | SWRC Activity Room 1&3 |
| Thursday | 3:30 PM – 5 PM | SWRC Activity Room 1&3 |
Class Quick Facts:
This course will be offered January 11 through March 24, Tuesdays, and Thursdays from 3:30-5:00 PM.
This class is NOT for credit; HOWEVER the workload is equivalent to a 3-credit class.
This course is designed for UF students only
For any further questions please contact: The Group Fitness Administrative Staff at RSGroupFitness@ufsa.ufl.edu See Group Fitness Instructor Training Course Guide for more information.