Welcome to Intramural Sports
Playing sports here at RecSports is a fun and rewarding experience. Whether you're an ex-highschool basketball star, or a #Top10Public teen, Sports Programs has something for you. Playing intramurals is part of the quintessential college experience, and we strive to make the experience memorable, fair, and fun for everyone. Below, we provide some answers to common questions to make sure you're ready for your game day.
Sport Leagues vs Flash Tournaments
Lace up, RecSports is offering 10 sport leagues this semester.  Sport leagues offered this semester are: softball, indoor volleyball, co-rec indoor soccer, flag football, ultimate frisbee, singles/doubles racquetball, 3v3 basketball, team tennis, kickball, and women's and men's indoor soccer.  Click here for more information about registration and dates. In addition to these sport leagues, RecSports is offering 9 flash tournaments this semester: spikeball, 4-person golf scramble, wiffleball, cornhole, bowling, goalball, cricket, wheelchair basketball, and billiards.  Unlike sport leagues which run throughout the semester, flash tournaments are either single or two day events that include sports not offered in sport leagues. Click here for more information about registration and dates for flash tournaments.
Anyone can play Intramurals, no prior experience or athleticism is necessary!
Joining a Team
Joining teams at RecSports is easy! To register for a team, participants should make an IMLeagues account here.  Once this account is made, participants can either can either create a team and invite members to join, or they can accept an invitation to join a pre existing team.  If a participant does not have a team, we offer a Free Agent Program that assists participants with finding a team to play on. To find available teams:
Click the orange "join team" icon button at the top of the homepage
Select the league and division which your desired team is registered
A list of teams playing in that division will load, select the team you wish you join by clicking the orange Join Team icon
Agree to the waiver and fill in all necessary information
A message will be sent to the captain of the team you asked to join, once the captain has given approval you will be added to the roster
NEW Rover Rule
Starting this year, participants are allowed to play on as many teams as they would like during the regular season under our new Rover Rule.  Gone are the days of being locked into one roster.  If a participant wishes to play during the playoffs, they must sign up on the roster of their "Home Team" first.  Once a participant is on the roster of their home team, they may participate on other teams in that league by checking in with the supervisor on site and completing the "Rover Rule Form."
The first team the participant plays for at any point during the season is considered their "Home Team," and their eligibility will only be permitted on those teams for playoffs.  This means that a participant will only play on a maximum of one co-rec team and one other team in the playoffs. If a participant's "Home Team" is not participating in the playoffs, the participant may not join another team in that league.
Game Preparation
Before arriving to the game, check IMLeagues for which field/court/surface you're playing on.  Account for possible Gainesville traffic when leaving for the game. Also, double check that you and everybody on your team is wearing the same color and has a number, if necessary.  Remember, everyone should bring a white t-shirt just in case both teams are wearing the same color.
Once you've arrive, find your field/court/surface and teammates. Don't forget to check in with a supervisor in an orange polo by showing your Gator1 ID.  Now, it's gametime. Go out there and have fun!
Who's Who 
We know the myriad of polo shirt colors worn by our employees can be confusing, so here is an explanation of what they mean:
Orange polos are supervisors. They check people in, evaluate officials, and enforce policy.  This is the first person you want to look for when arriving at the game site.
Blue polos are scorekeepers. They are responsible for keeping score and records at basketball, softball, and 7v7 flag football games.
Red polos are athletic trainers. They are available to assist with injuries and they keep everyone safe!
Forfeits vs Defaults
Something happens and you can't make it to your game.  We understand that things come up (most of us are students too)!  If you know that your team will not be able to participate at least 6 hours before gametime, you should submit the default form on IMLeagues.  Although this game is considered a loss for your team, there is no monetary penalty.  Defaults can only be made once.
A forfeit occurs when a team does not have the minimum number of players present and legally signed in at game time.  At least one person should be checked in at game time with the minimum amount after 10 minutes or it is a forfeit.  After the second forfeit, team captains are charged $30 and the team is removed from the league.
For the Win
We know that you want to win.  So, in addition to receiving pride and bragging rights, champ shirts are given to the winning individual or team in each division. Only the winners get to join the highly sought after champ shirt club to show off your glorified trophy of the season.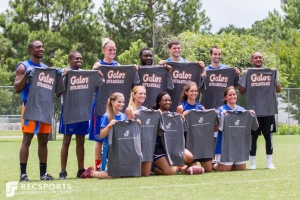 Cheers to a new school year
The 2019-2020 school year is going to be a promising one.  With so many fun events and activities planned, there is much to look forward to.  From all of us at RecSports, we can't wait to see you soon. We will continue to do everything in our power to allow you to be your best self and to #LiveInMotion.  Cheers!
Zachary Newman, Marketing Assistant