Scenario:
Your nose is running, you are sneezing, and your head is foggy. After several miserable days you decide to make an appointment with your physician. In the current COVID-19 pandemic environment there is COVID fear, but you also suspect this is your annual bout of seasonal allergies.
You arrive and the nurse calls you back, takes your blood pressure and body temperature, then asks you to step on the scale. You hesitate…
Did you know that you can decline being weighed?
For many medical visits, the standard height/weight/blood pressure/body temperature is automatic but frequently unnecessary. However, this process can be dreaded by some individuals.
It is a good idea to have your blood pressure and temperature checked.

Your height? If you are above the age of 24, you've likely hit your peak.

Your weight may have little to nothing to do with your symptoms and why you made the appointment.
Research supports that many individuals, especially women, are less likely to see their doctor because of uneasiness associated with being weighed. (1, 2) As a patient, you have the right to decline being weighed. It is not required that you step on the scale or engage in weight-centric discussion for non-weight related concerns.
It's your choice.
If you have experienced adverse anxiety, negative self-talk / self-hatred, weight stigma from your healthcare provider, or loss of confidence after being weighed, it may be helpful to decline stepping on the scale. This refusal is your personal preference and is not dictated by your body size or shape. If being weighed makes you feel uncomfortable, state some version of the following:
(Specific) "I decline being weighed today."

(Polite) "No thank you, I do not wish to be weighed today."

(Intentional) "I choose to avoid being weighed unless it is medically necessary. What is the medical necessity of weighing me today?"

(Firm) "Please write, 'Patient declined to be weighed.'"

(Emotionally Informed) "Weight is a sensitive topic for me and I do not wish to be weighed." Or "I am not comfortable being weighed."

(Curt) "No"

Use a printed declination card from Three Birds Counseling or More-Love.

Keep in mind, there are some instances when it is medically necessary to be weighed including:
Under treatment for kidney failure

Under treatment for congestive heart failure

Pre-operatively for anesthetic dosing

Specific medication dosing based on weight (3)

Critical stages of some eating disorder treatments
In these instances when it is necessary to obtain weight, you can ask to be "blind weighed," e.g. step on the scale backwards and specifically state that you do not want to know your weight, it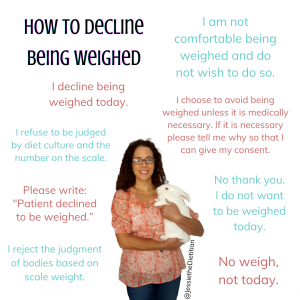 should not be stated aloud, nor printed on a document you will see.
If you have discomfort with being weighed and stepping on a scale makes you feel anxious, it is possible you may have difficulties with body image. If you are looking for support to overcome concerns with body image, weight worries, and finding peace in your relationship with food, body, and self, sign up for a free 10-minute nutrition speed counseling session* with Jessie, a weight-neutral anti-diet dietitian.
-Jessie Furman, MS, RDN, LD/N
*Valid for all students, alumni, faculty, and staff of UF and UF Health.
REFERENCES
Drury CA, Louis M. Exploring the association between body weight, stigma of obesity, and health care avoidance. J Am Acad Nurse Pract. 2002;14:554–561. [PubMed] [Google Scholar]
Amy NK, Aalborg A, Lyons P, Keranen L. Barriers to routine gynecological cancer screening for White and African–American obese women. Int J Obes (Lond) 2006;30:147–155. [PubMed] [Google Scholar]
Pan SD, Zhu LL, Chen M, Xia P, Zhou Q. Weight-based dosing in medication use: what should we know?. Patient Prefer Adherence. 2016;10:549-560. [PubMed] [Google Scholar]