Breakfast: Middle English, "breaking the fast" from the prior night (consumed within 1-2 hours of waking)
Not only can a healthy breakfast choice set the stage for healthy dietary choices the rest of the day, but it can also reduce overwhelming daytime hunger and help you to avoid an afternoon energy crash.
Studies have shown that skipping breakfast often leads to less healthy dietary choices the rest of the day, specifically choosing less fruits and vegetables, and reduced likelihood of physical activity.  Start the day with a balance of foods that include an adequate protein source, some carbohydrates, healthy fats, with a generous dose of fruits and vegetables. Keep in mind that the breakfast hour does not mean that "breakfast food" is required; you can eat any food at any time of the day. However, if you are more of a traditional breakfast-food-at-breakfast-time eater, here are balanced, nutritious and delicious ideas to make at home: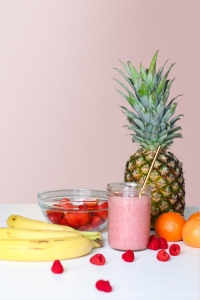 Adjust the quantity serving to your hunger and desire levels
Prepare the morning of:
Avocado toast(s) topped with "everything but the bagel" seasoning and an egg
Bowl of hot oatmeal cooked with water or milk, handful of nuts, fresh or dried fruit, and sweetener if desired
Toast with nut butter (peanut, almond) drizzled with honey, jam, or a sliced banana
Greek yogurt or cottage cheese parfait of layered yogurt, your favorite granola, muesli, or nuts, and fresh fruit. Repeat layers for hunger level
Bar (grab-and-go): KIND protein bar, RxBar, NuGo, etc
Eggs scrambled with sauteed veggies and garnished with shredded cheese or avocado and toast
Whipped cottage cheese on crunchy "wasa" crackers topped with fresh fruit (sweet) or sliced cucumber & pepper (savory)
Toasted bagel topped with cream cheese and lox, hummus, or cheddar cheese
Chicken sausage link with toast and fruit
Fresh smoothie with a liquid base, 1 serving of fresh or frozen neutral vegetable (shredded carrots, frozen riced cauliflower, spinach or kale leaves, zucchini), fresh fruit, and a protein choice (protein powder, Greek yogurt, hemp hearts, nut butter)
Apples or carrots dipped in peanut butter with a yogurt
Leftovers!
Hummus or cottage cheese on toast with sliced avocado and tomato
Breakfast meat (plant- or animal-based) with bagel/toast and fruit
Protein pancakes or waffles (can also freeze, and toast when desired)
Tofu scramble of tofu, veggies, seasonings with a muffin
Egg or tofu breakfast bowl of scrambled protein, chopped veggies, whole grain of choice, and dressing drizzle
Savory oatmeal bowl of oats, spinach, and cheese
Egg omelet filled with veggies and cheese with fruit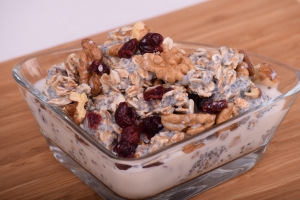 Prepare the night or weekend prior
Overnight oats made with old fashioned oats, milk of choice, fresh or dried fruit, sweetener as desired. (Many recipes out there!)
Chia pudding made with milk of choice, chia seeds, sweetener, and fruit
Baked oatmeal (in a muffin tin or in casserole pan)
Baked eggs Florentine breakfast cups (in a muffin tin)
Homemade fiber-rich muffins with nut butter
Options from frozen:
Homemade McMuffin: Cook sausage patties or bacon strips, and single eggs. Prepare sandwich by layering muffin, sausage, egg, slice of cheese, and top with muffin. Wrap each sandwich individually in parchment paper and place in freezer-safe bag or container. When ready to eat, microwave lightly wrapped in a moist paper towel for ~1 minute or until thoroughly heated.
Homemade Breakfast burrito: Add cooked, scrambled eggs, crumbled breakfast meat, beans, shredded cheese, and salsa to corn or flour tortillas. Follow same process as above to wrap, freeze, and reheat individually.
Smoothie popsicles: Prepare your favorite smoothie recipe and place in large popsicle tray. Remove a popsicle for an on-the-go breakfast.
Prepare your meal and compare it to what breakfast looks like around the world.
-Jessie Furman, MS, RDN, LD/N
Jessie is a Registered Dietitian and Assistant Director for Nutrition at University of Florida's Department of Recreational Sports where she does individual nutrition counseling and coaching with the UF community. Follow her on Instagram for more nutrition tidbits.