Estimated Read Time: 3 minutes 15 seconds
How do you "Fuel for the Future"? This year's theme for National Nutrition Month®, "Fuel for the Future" asks how we can make educated choices on the food we consume for the success and longevity of us – as individuals and as a planet. One way we can achieve this is by practicing plant-forward eating.
What is plant-forward eating?
Plant-forward eating emphasizes plant-based intake, does not limit other foods, and is flexible towards your personal food preferences. This eating pattern increases the presence of fruits, vegetables, legumes, and whole grains in meals without restricting or eliminating meat and other foods. For example, on a plant-forward diet animal products can be included, but plant-based foods will be the star of most meals.
According to recent studies analyzed by registered dietitian Lexi Cole:
– 39% of American adults are actively trying to eat more plants, and
– 44% of American consumers are trying to reduce their meat intake (2022).
Plant-forward eating has surged in popularity over recent years in the United States. Many people choose to follow a plant-based diet to reduce their environmental impact (sustainability), harness the health benefits of less meat and more plants, or have moral quandaries eating meat.
Although practicing plant-forward eating is newer in the U.S., it has been practiced for thousands of years around the world. Historically, the Mediterranean diet and the Asian heritage diet lean towards a more plant-forward way of eating.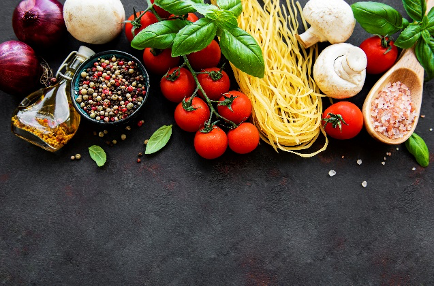 The Mediterranean diet emphasizes fruits, vegetables, whole grains, legumes, and nuts with occasional servings of fish and seafood twice per week, and moderate consumption of dairy products, eggs, and poultry.
In the Asian heritage diet leafy greens, legumes, vegetables, soy foods and whole grains are enjoyed daily while fish or shellfish are incorporated twice per week. Eggs and poultry are consumed in moderation with infrequent servings of red meat.
Thanks to its flexibility, economic practicality, and environmental friendliness, plant-forward eating has contributed to the longevity and cultural success of the Mediterranean and Asian heritage diets.
Sample plant-forward meals:
Breakfast
Avocado Toast: whole grain bread, avocado, spinach, egg, seasonings, condiments of choice
Overnight Oats: oats, dairy OR plant-based milk, walnuts, chia seeds, chopped apple
Lunch
Burrito Bowl: black beans OR chicken, lettuce, spinach, peppers, brown rice, guacamole, salsa, dairy OR plant-based sour cream
Mediterranean Bowl: chicken OR falafel, chickpea, cucumbers, tomatoes, quinoa, dill, lemon, dairy OR plant-based feta cheese, tzatziki
Dinner
Burger and fries: beef OR vegetable burger, lettuce, tomato, onion, pickles, bun, sweet potato/veggie fries, condiments of choice
Tacos: seasoned mahi-mahi OR lentils, corn/flour tortillas, lettuce, peppers, onion, corn salsa, Pico de Gallo, dairy or plant-based sour cream
Snacks:
Bento Box: Dairy OR plant-based cheese, cucumbers, carrots, hummus, nuts, crackers
Sweet Treat: Apple slices, nut butter of choice, dark chocolate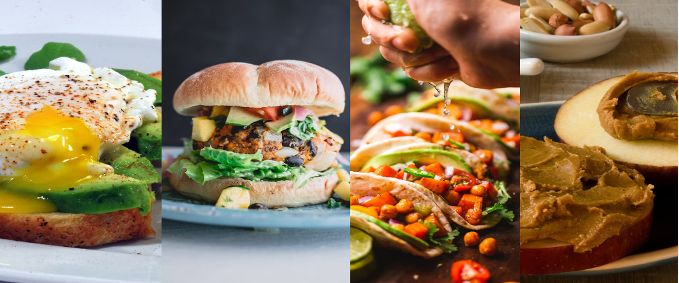 Take your regular meals to the next level by adding more flavor to your plate with more plants! Whether it is swapping out chicken for black beans one night, or adding some extra color with tomatoes, carrots, and spinach, eating plant-forward bends towards what you are looking for in terms of flavor, color and texture.
Want to figure out more ways to incorporate more plants into your meals? Purchase a 3-session nutrition package or a free speed session with RecSports' registered dietitian and certified intuitive eating counselor.
This post was co-written by:
Jessie Furman, MS, RDN, LD/N and Rachel Rosenthal
Jessie is a Registered Dietitian and Assistant Director for Fitness & Wellness at University of Florida's Department of Recreational Sports where she does individual nutrition counseling and coaching with the UF community. Follow her on Instagram for more nutrition tidbits.
Rachel is a 4th year UF Pre-professional Biology student and Program Assistant with Nutrition Services at the Department of Recreational Sports.
References:
Cole, W. by L. (2022, August 19). What is a Plant-Forward Diet? Dietitians' Take on the Movement. To Taste. Retrieved February 13, 2023, from https://totaste.com/plant-forward-cooking/