#LiveInMotion with Esports
Gather your friends for RecSports Esports offerings!
Below you'll find the registration process, step-by-step guides of each platform, and all the information you need to know to get involved!
ESports Registration
Want to get involved, but don't know how?  Esports has multiple ways to get involved with 1v1 to 3v3 options!
Begin registration by visiting rsconnect!  Visit the link below to learn about the registration process via FusionIM and how to join a sport:  Esports Registration How-To
Esports Offerings
Intramural Sports will be offering a variety of Esports and online content to help you get in the game!
Fall 2023 Leagues:
Fall 2023 Flash Tournaments:
Super Smash Bros. Ultimate
FIFA
Connect through ESports
Discord is an exciting platform that allows participants to receive Esports updates from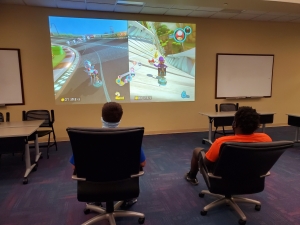 RecSports while allowing you to connect with your fellow players. Note the following  instructions on how to join:
Score Reporting and Forms
Esports Sport Rules:  View all game specific rules and settings
Esports Participants' Guide:  This guide will provide you with additional general guidelines set forth by RecSports.
How-To Report Your Score:  After each game, if you are having issues submitting your score to RSconnect, fill out this form. Both parties should submit the game score either through RSconnect or the score report.
Score Report:  After each game, BOTH parties will need to submit this score report as well as a screenshot of the final score.
Forfeit Form:  If your opponent does not schedule a match, please complete this form.
Sportsmanship Report:  Sportsmanship is still important even online.  If you encounter any issues with poor sportsmanship, please report them here.
We are always looking for ways to improve and make Esports more enjoyable for everyone! If you have any recommendations on how we can improve our Esports offerings, whether it be revising our current offerings or suggesting new ones, please fill out the form below!